VMware have released the Virtual SAN sizing tool this month.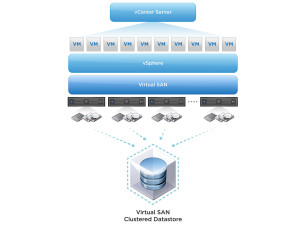 Virtual SAN has had a lot of attention over the past year since it was announced. Naturally it makes sense to answer the question – How does Virtual SAN work? What is it?
To put it simply – Virtual SAN is a software defined storage solution from VMware. Unlike other products out there, Virtual SAN sits inside the ESXi layer and therefore is not an additional software appliance. Virtual SAN aggregates local storage from ESXi hosts into a single shared datastore presented to all hosts in the Virtual SAN cluster.
Do not be surprised with the SSD requirement. Virtual SAN relies heavily on SSD for performance, every write I/O will go to the SSD first, and then eventually follow through to Magnetic Disks.
Minimum Virtual SAN requirements;
3 x ESXi 5.5 hosts per Cluster
6GB Ram per host
1 x SSD & 1 x Magnetic Disk per Host
1 GB Ethernet NIC dedicated for Virtual SAN per Host
Full requirements can be found here.
Licensing;
Virtual SAN is licensed on a per CPU basis with a 60 day trial. For example, if you have a Virtual SAN cluster that contains 6 hosts with 4 CPU's each, you will need to assign a 24 CPU licence.
Virtual SAN sizing tool;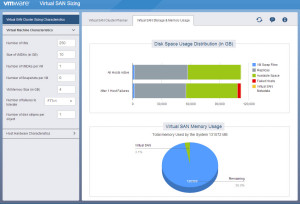 Virtual SAN customers can get easy sizing estimations for the hardware resources necessary to support a Virtual SAN design. You just need to provide high level virtual machine data on capacity, performance and desired availability requirements.
The sizing tool can be accessed at – http://virtualsansizing.vmware.com
How to enable Virtual SAN;
If you plan to test this out in a Lab, you can emulate the SSD / Magnetic Disk set-up through VMware Workstation / Fusion.
Enabling VSAN is simple. Step 1 – Create a VMKernal Port dedicated to Virtual SAN, Step 2 – Enable Virtual SAN at a cluster level as displayed below;