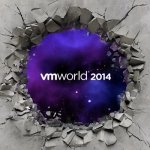 While VMworld officially starts tomorrow for most of us, today was the Partner Day where there are various sessions for them to understand the VMware solutions roadmap ahead.
I was there to get registered early and take a VCAP-DCD certification exam in CC5.2. I had initially underestimated how much floor space VMworld takes up. The test centre was a good walk away during which I also strolled into the the Hand-on-Labs section, which did look exciting indeed. I am looking forward to that tomorrow afternoon.
Registration was easy enough. I also received my backpack, badge, notepad, flyers, a water flask & 2 t-shirts throughout the day.