I was impressed when I saw this latest fling from VMware. This add-on provides detailed performance stats through the Web Client GUI, previously ESXTOP was only accessible through the command line. All flings are in a 'experimental technical preview state' but this is a handy one to see in the future.
If you have not used ESXTOP for performance stats before, I suggest you take a look at this fantastic guide on how to interpret them – click here.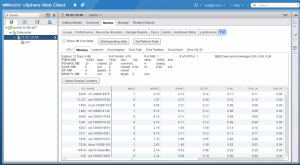 Features
Separate tabs for CPU, memory, network and disk performance statistics
Flexible batch output
Flexible counter selection
Advanced data grid for displaying stats (sortable columns, expandable rows, etc.)
Configurable refresh rate
VM-only stats
Embedded tooltip for counter description
Click here to download the plug-in.