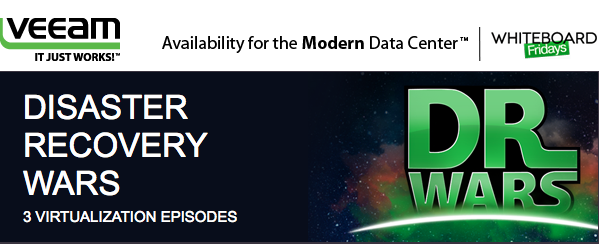 I have just come across these recordings on DR strategy and the Veeam product line. The recordings feature Veeam One for VMware virtual environments including best practices on DR.
Aside from the DR learning, the star wars theme gives it an interesting spin! Go from an IT padawan to a  true Virtualisation Jedi in the 3 part training series.
Master your DR skills in three episodes:
• Episode IV – A New Host: learn how to prepare for disaster, document your environment, ensure your backups are current and configure your backups.
• Episode V – The Admin Strikes Back: be prepared for the recovery. Watch and learn more about the recovery of primary VM's and rebuild your environment effectively
• Episode VI – Return of the Admin: deep dive into restoring services, best practices around restores, focus on getting services up and running for end-users.
Click here, register and view the video series.