Earlier in January I made a post about the new VMware recertification policy. Those VCP's who had reached the 2 year window had to recertify, using one of 4 options I mentioned in my previous post, by March 10, 2015 to maintain their VCP certification.
This week VMware posted a welcomed extension to the March 10, 2015 deadline, now extended to May 8, 2015. The extension was due to some technical issues prior to the deadline, and VMware wanting to give more time for VCP's to recertify.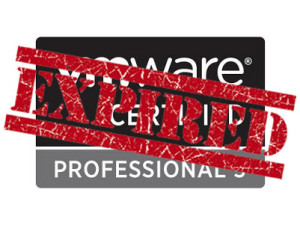 The other good news is that VMware want to thank those who acted early to meet the original deadline. These individuals will be able to upgrade their certification to VCP6 with 65% off the normal retail price. VMware will e-mail the discount details to those eligible directly, and migration exams must be taken by August 31, 2015.
Awesome news if you missed the March 10th deadline. This is your 2nd and final chance.
For more information read here